---
Offsite Program Packages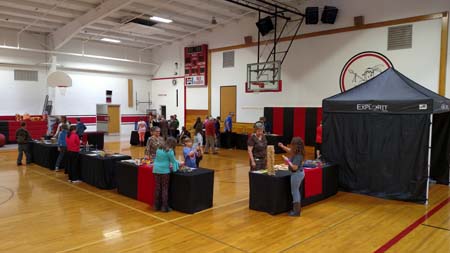 Offsite Demonstration
First demonstration or lab: $375
Each additional demonstration or lab: $150
Lab limited to 25 students per session
Science Discovery Day: $1,850
Full day of science activities for an entire school
Choose from any combination of six demonstrations and/or labs for the event
Traveling Explorit Zone setup for entire program
Family Night Program: $950

Includes one 30 minute demonstration
Gym set up with traveling Explorit Zone available for up to 2 hours
No labs available for this program
Portable Planetarium: $400 (half day) – $800 (full day)
Half day consists of up to four half-hour shows done every 45 minutes, full day is up to eight shows
Requires open space at least 20 feet per side with 10-foot or taller ceilings
Ask about live nighttime stargazing with telescopes

Science Explosion 2 Day Event: $2,900
Up to ten demonstrations and/or labs of your choice
Gym set up with traveling Explorit Zone for both days
Family Night on day one with traveling Explorit Zone
Edgerton On The Move Frequently Asked Questions
* Round trip mileage will be in addition to EOTM programming fees.
**Educators leave Aurora no earlier than 6 am and return no later than 11 pm. Depending on your requests, lodging may be necessary. This cost is additional, and is not included in the EOTM price.
---
Demonstrations
Offered on and offsite. Click here for demonstration descriptions.
Arctic Blast (States of matter)
Amazing Bubbles (Science of bubbles)
FUNDamentals of Science
Sparks (Electricity)
Spaceflight Explorers (Space)
Raptorology – The Science of Raptors (Birds of Prey)
Portable Planetarium
Stopping Time (Strobe light physics)
Go Show! (Newton's laws of motion)
Good Vibrations (Sound)
The ABC's of Chemistry
---
Labs
Offered on and offsite. Click here for lab descriptions.
Color Mixing
Dino Excavators
Density Bubble Tube/Lava Tubes
Nest Engineering
Slime
Owl Eyesight
Grass Heads
Stomp Rocket
Glitter Blood
Flashlights
Owl Pellet Dissection
Soda Can Catapult
NASA Mallow-naut Spacesuit
Marble Machines
Spectroscope
DNA
Get STEAMED Portable Miniature Golf Course