Group rate:  $7.00 per person ($100 minimum)
*Standard visit 2 to 3 hours
*Includes two 30-minute demonstrations
*Each additional demonstration @ $1.00 per student
*Labs @ $2.00 per person ($50 minimum fee) onsite. Lab limited 25 students per session. Labs run approximately 1 hour.
---
Offsite Program Packages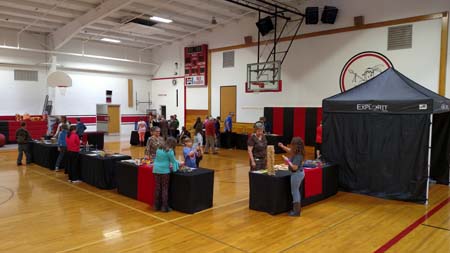 Offsite Demonstration
First demonstration or lab: $350
Each additional demonstration or lab: $125
Lab limited to 25 students per session
Science Discovery Day: $1,750
Any combination of 6 demonstrations and labs for the event
Traveling Explorit Zone set up for entire day of program
Family Night Program: $800

30 minute demonstration
Traveling Explorit Zone available for up to 2 hours
No labs available for this program
Planetarium Shows: $350 – $600

30 minute interactive tour of the night sky with Dan Glomski, longtime astronomer in new portable planetarium
Great way to educate students about upcoming total solar eclipse taking place on August 21st, 2017
$350 for half day, up to 4 thirty minute shows done every 45 minutes
$600 for full day, up to 8 thirty minute shows.
Ask about our live nighttime stargazing program

Science Explosion 2 Day Event: $2,700 
Up to ten demonstrations
2 labs
Traveling Explorit Zone set up for 2 day program
Family night on day one with Explorit Zone
Edgerton On The Move Frequently Asked Questions
*Mileage to and from to your location will be an additional charge.
---
Demonstrations
Offered on and offsite. Click here for demonstration descriptions.
Stopping Time (Strobe light physics)
Arctic Blast (States of matter)
Sparks (Electricity)
Spaceflight Explorers (Space)
ACIDS, BASES AND CARBON – The ABC's of Chemistry
Good Vibrations (Sound)
Amazing Bubbles (Science of bubbles)
Go Show! (Newton's laws of motion)
PSI (Pressure Systems Investigations-Atmospheric pressure)
Portable Planetarium
---
Labs
Offered on and offsite. Click here for lab descriptions.
Color Mixing
Density Bubble Tube
Slime
Grass Heads
Stomp Rocket
Soda Can Catapult
Cartesian Squid Diver
Glitter Blood
Flashlight
Light up LED Flower
Periscope
NASA Mallow-naut Spacesuit
Spectroscope
Rube Goldberg
DNA