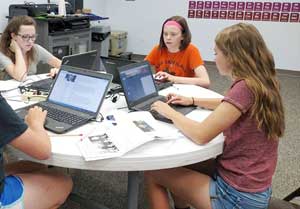 Sponsored by:

AACD'S USING SCIENCE IN BUSINESS CAMP



June 26th – June 30th
1:00pm – 5:00pm
Grades: 9th – 12th
Instructor: Mary Molliconi, Edgerton Explorit Center and area business professionals
Science is everywhere…even in business. Have you ever wondered what makes a business successful? Campers will learn just that by delving into the science of business while working with an organization in our community to develop a business marketing campaign with the skills they learn during the week. A number of field trips will also expose campers to the application of business techniques in the real world. Great camp for high school students who are interested in any careers in business.
Members: $100 | Non-members: $125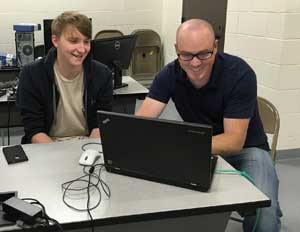 Sponsored by:

HAMILTON TELECOMMUNICATIONS
HARDCORE COMPUTER PROGRAMMING BOOT CAMP

June 26th – June 30th
8:00am – 12:00pm
Grades: 9th – 12th
Instructor: Hamilton Telecommunications Software Engineer Staff
This innovative camp is geared towards high school students. Campers receive a fast paced introduction to the world of programming. Learn the necessary skills to
use and develop an application. Campers will be exposed to different programming platforms and will utilize various languages, including but not limited to HTML, CSS, and JavaScript to develop their programming project.
Members: $100 | Non-members: $120
Scholarships available based on financial need. If your student qualifies for the Free and Reduced Lunch Program at their school, they may be eligible to attend a summer camp free of charge due to support from our corporate sponsors.
CANCELLATIONS/REFUNDS: Cancellations made 30 days in advance of the first day of the camp session are eligible for a full refund. Cancellations made 10 days before the first day of the camp session are eligible for a 50% credit voucher. Cancellations made less than 10 days before the start of the camp session will not be refunded. Students removed from a camp for disciplinary reasons are not eligible for a refund. The Edgerton Explorit Center reserves the right to vary its programs and to reschedule or cancel an event if it is undersubscribed or for any other reason. The Edgerton Explorit Center aims to give participants at least 1 weeks' notice if an event is rescheduled or cancelled, and give a full refund for cancelled events.